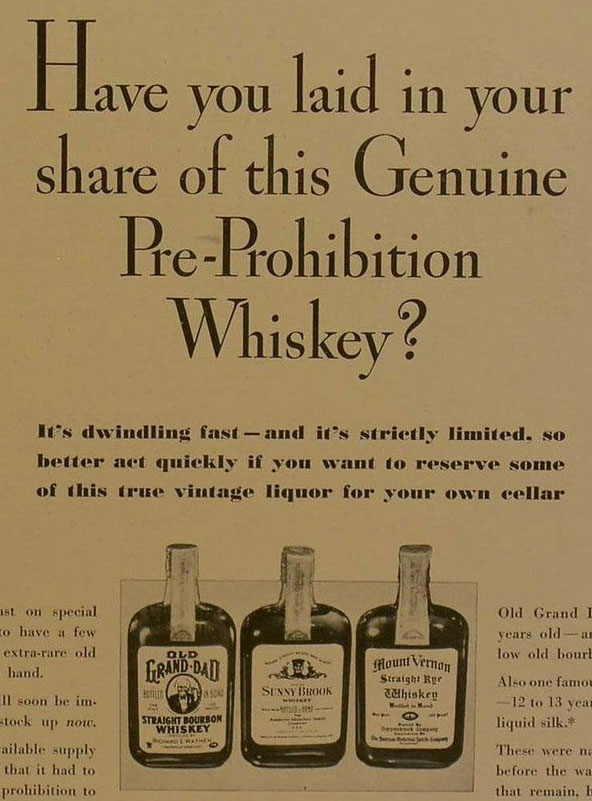 This magazine ad from October 1934 sheds light on the fact that there was a lot of prohibition era whiskey left over after Repeal. Since we basically had to start from scratch aging American whiskey via the relatively few distilleries that survived, the only "good old stuff" was bottled before 1920 (aka pre-prohibition). What is interesting is a lot of the pre-prohibition whiskey was way over-aged and tasted like a burnt leather boot. So, in this clever advertisement by National Distillers, they turn that around and make it sound like an 18 year old bourbon is "mellow" and 13 year old rye is as "smooth as liquid silk." Granted, some prohibition era whiskey still tastes pretty darn good, but bourbon was never meant to be aged past 6 to 8 years for it to have quality flavor.
In case you don't want to read the advertisement from the image file, it is transcribed below.
Have you laid in your share of this Genuine Pre-Prohibtion Whiskey?
It's dwindling fast — and it's strictly limited, so better act quickly if you want to reserve some of this true vintage liquor for your own cellar
Everyone, at least on special occasions, likes to have a few bottles or cases of extra-rare old American whiskey on hand.
Unfortunately, this will soon be impossible unless you stock up now. 
The nation's entire available supply is limited by the fact that it had to be laid down before prohibition to attain vintage flavor today — and what little remains is rapidly dwindling to the vanishing point as is ours.
When this diminishing supply of rare old whiskey is exhausted, you will never see any more, as the government requires that whiskey be withdrawn at the end of 8 years from barrels and bottles for purposes of revenue.
In fact, our famous 16-year-old Old Taylor is now completely sold out — showing the way of the wind.*
The rest of the venerable stock includes Sunny Brook and Old Grand Dad — each 16 to 18 years old — and several other mellow old bourbons.*
Also one famous rye — Mount Vernon — 12 to 13 years old — and smooth as liquid silk*
These were names to conjure with before the war, and the few cases that remain, heavily drawn against every day, are prizes of very rare order.
And while they are a bit costly for everyday service, you'll be proud in the days to come, to bring out a bottle or so for specially favored guests. The government stamp attests their rare age; and a neat glass sniffed or sipped will demonstrate their marvelous bouquet and flavor.
*You'll always be able to call for these famous brand names — and get the finest 4 year or older, bottled in bond whiskies in America. Only the very old, prohibition aged stocks are referred to in this advertisement.
PRODUCTS OF NATIONAL DISTILLERS
AMERICAN MEDICINAL SPIRITS CO. • NEW YORK • CHICAGO • LOUISVILLE • SAN FRANCISCO
Caption 1: The famous brands OLD GRAND DAD, SUNNY BROOK and MOUNT VERNON make up the greater part of this special limited stock, but also there are small quantities remaining of BOURBON de luxe, OLD McBRAYER, BLACK GOLD, BLUE GRASS and OLD RIPY.
Caption 2: Whiskey so rare as this is really "occasion" whiskey — not for the everyday cocktail or highball, but for the unusual occasion.