Identify the Prohibition Whiskey Bottles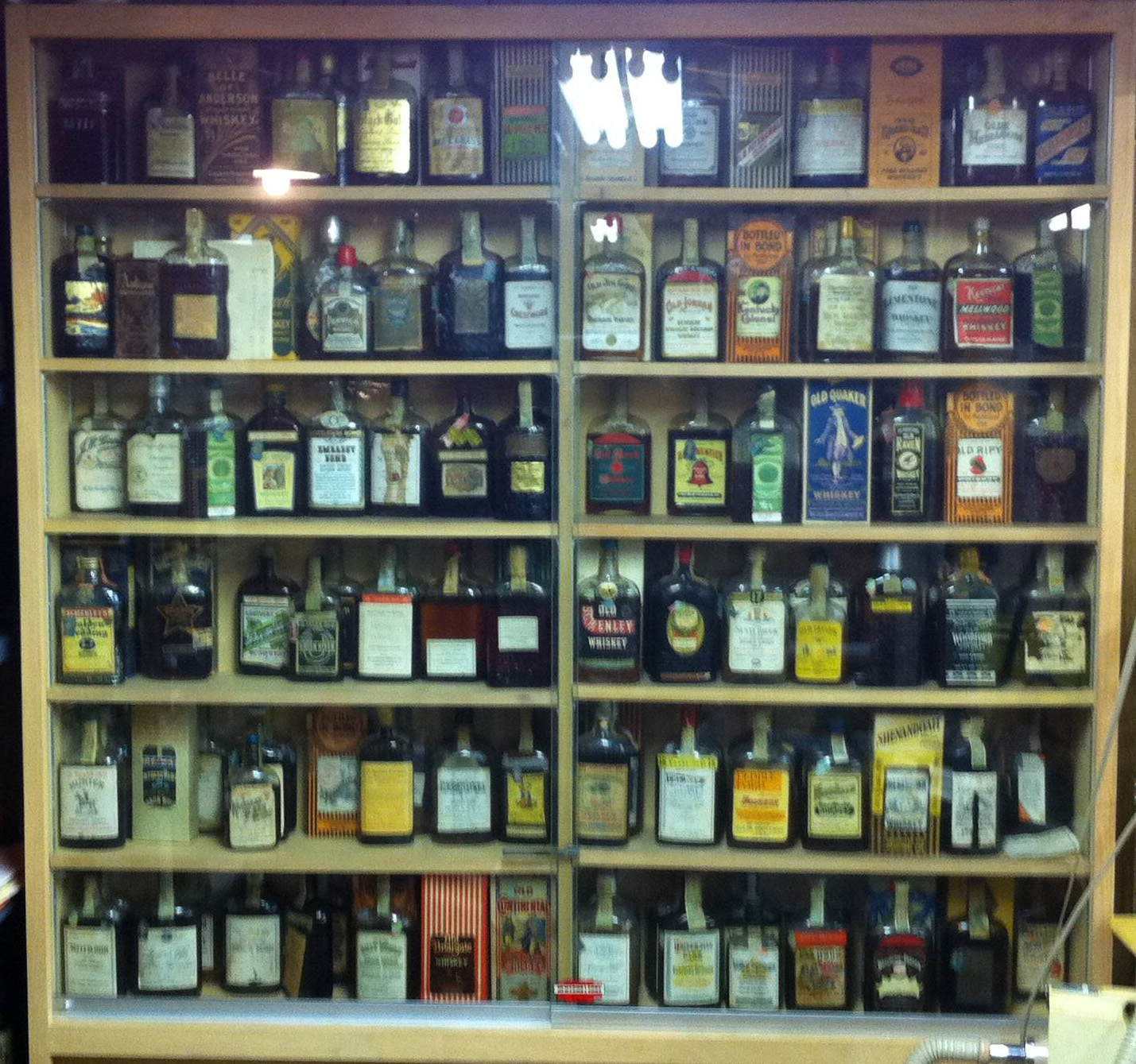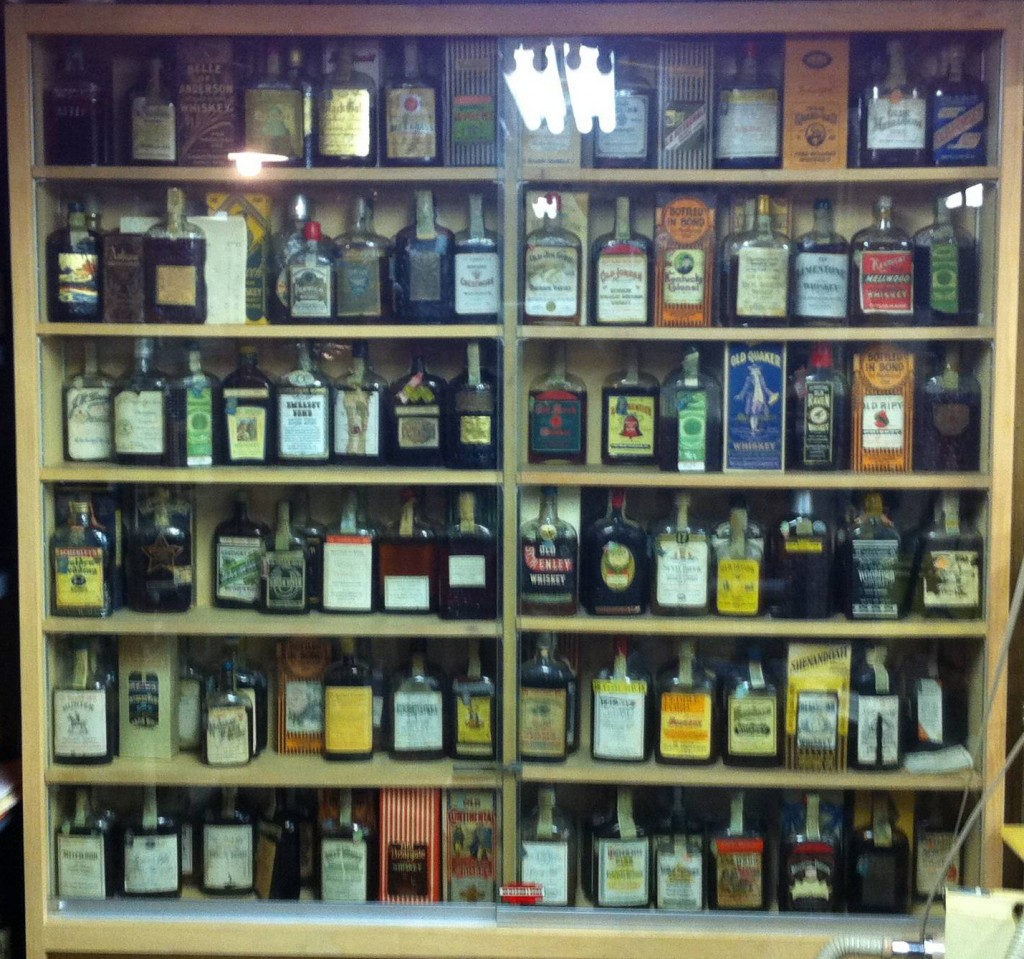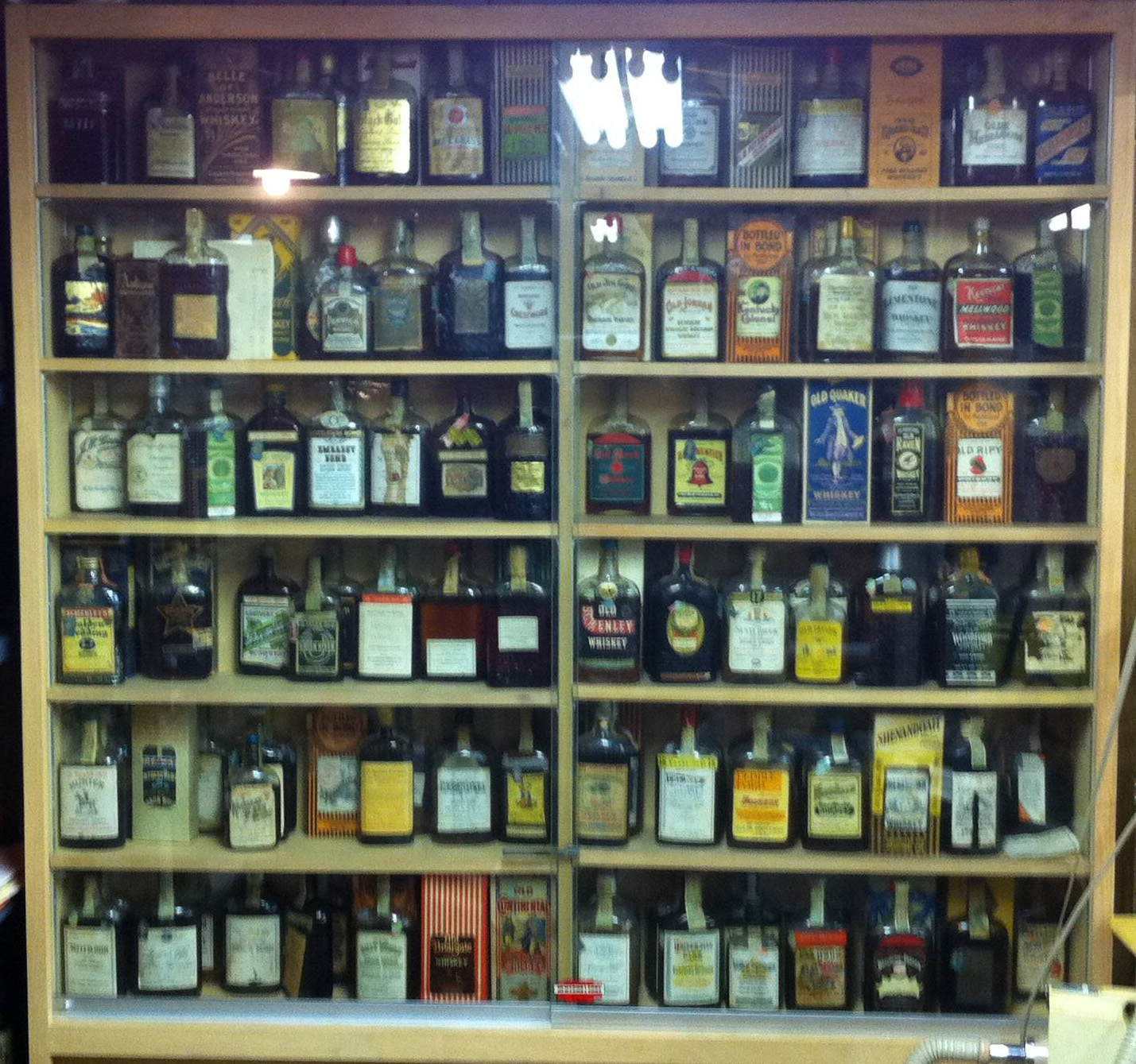 During one of my typical Google outings I stumbled upon this photograph of a nice old collection of prohibition whiskey bottles. The owner of this collection is unknown as the photo was snapped and uploaded to Reddit by the owner's grandson according to the original post. My goal is to identify every brand in the photo and I need your help. If you can correctly identify any of the prohibition whiskey bottles in the photo please post your guesses below. Hint: click on the photo to get a larger version of it. Another hint: the collection seems to be in alphabetical order, more or less.
Can You Identify the Prohibition Whiskey Bottles?
[one_half]
Left Side – Top Shelf
Antique
Atherton
Belle of Anderson
Belmont
Black Gold
Bluegrass
—
Left Side – Shelf #2
Broad Ripple
Antique (box – 1/2 pint)
—
Chicken Cock
— (1/2 pint)
Sam Clay
Country Gentleman
—
Left Side – Shelf #3
J.W. Dant
J.A. Dougherty's & Sons
Old McBrayer
Echo Springs
—
—
—
Four Roses
Left Side – Shelf #4
Golden Wedding
—
Greenbrier
Green River (1/2 Pint)
—
—
—
Left Side – Shelf #5
Hunter
—
Kentucky Tavern (1/2 pint)
Kentucky Tavern
—
—
—
Mattingly & Moore
Left Side – Bottom Shelf
—
—
—
—
—
—
Old Continental
[/one_half]
[one_half_last]
Right Side – Top Shelf
—
—
Old Fitzgerald
Old Forester
Old Grand Dad
—
—
Right Side – Shelf #2
Old Jim Gore
Old Jordan
Kentucky Colonel
—
Limestone
Mellwood
Old McBrayer
Right Side – Shelf #3
Old Mock
Old Prentice
Old McBrayer
Old Quaker
Old Raven
Old Ripy
Old Rosebud
Right Side – Shelf #4
Old Schenley
Old Stagg
Old Sunny Brook
Old Taylor
—
—
—
Right Side – Shelf #5
Sam Thompson
—
Pebble Ford
—
Shenandoah
—
A.M.S Special Old Reserve
Right Side – Bottom Shelf
—
—
—
Van Hook
Waterfill & Frazier
Daniel Webster
Willow Springs
[/one_half_last]