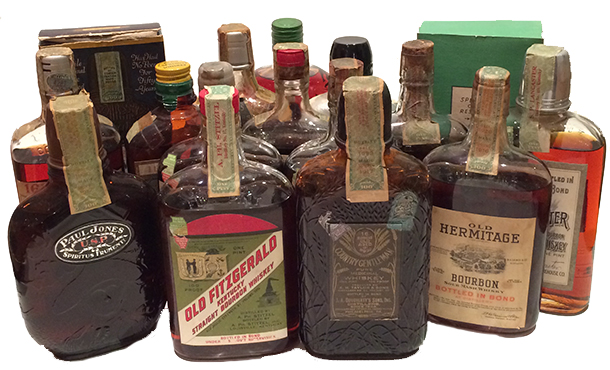 Have you ever wondered what a bottle of medicinal whiskey distilled nearly 100 years ago tastes like? Yeah, I'm sure you're thinking what most people think. Ewww! Hasn't that stuff turned by now? Well, in most cases, the answer is no. If the seal is intact, no sediment at the bottom, and only a bit of evaporation, you may be in for a treat. Unlike wine, when whiskey is bottled after aging for let's say, 8 years, it remains an 8 year old whiskey for life if it has been stored in a cool dark place.
You don't have to drink medicinal whiskey because LAW has done it for you
If you're like me, you wouldn't dare drink one unless you had a spare or two lying around and that usually isn't the case. You see, I'm a collector and once the bottles are opened, they have zero value to me. So, rather than open that delicious looking bottle of Old Farm you found behind the walls while renovating, drop me a line so I can talk you out of it.
Our friends at the LA Whiskey Society have done us a favor and tasted some of the oldest and most interesting prohibition era medicinal whiskies you can find. While a few were stinkers, several charmed the palates off of the LAW tasters, which worries me they will pursue drinking more of them. Since I'm not going to open bottles in my collection, I'm happy that the tasters at LAW have done this so we don't have to. For an incredibly interesting read, see the main article. For tasting notes, see the links below. Dates are distillation and bottling, respectively.