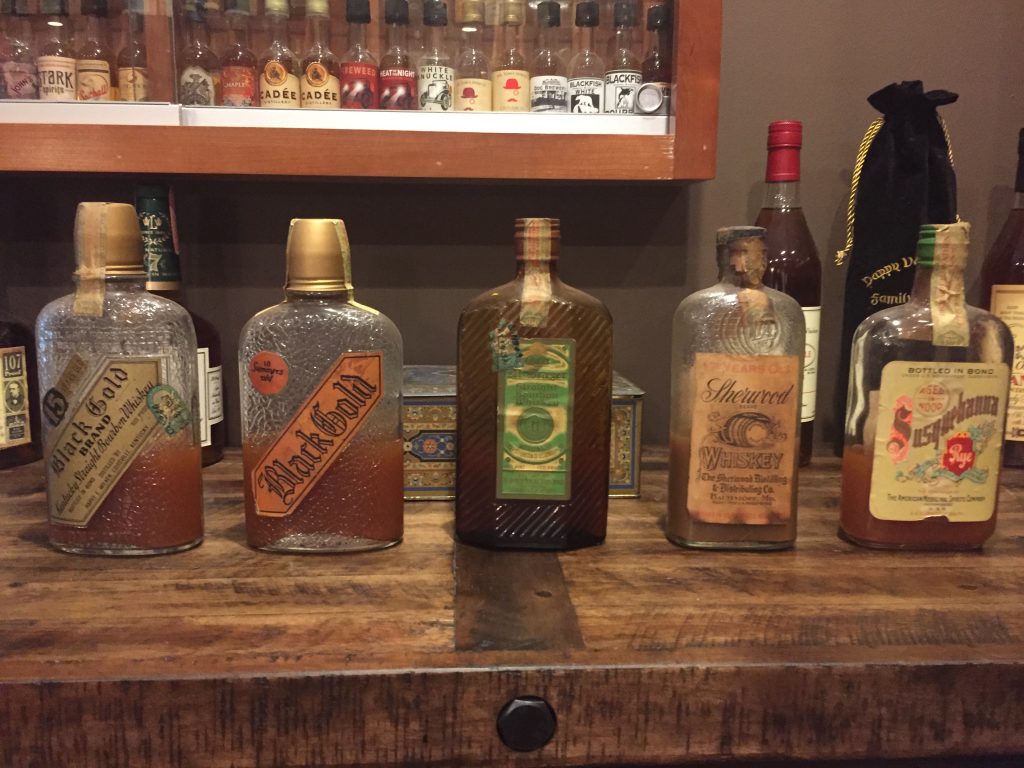 Greetings! To make room for some of my new bottles I'm letting go of the bottles pictured above. Please note: there is no alcohol in these bottles. Although they have never been opened, the whiskey has spoiled. These are collectible only and not for consumption. With that said, if you would like to buy one or more, please drop me a line and let's make a deal!
From left to right:
Black Gold 15 year old $55 SOLD

Distiller: Harry E. Wilken – Louisville, Kentucky
Distilled 1917 – Bottled 1932
Has "Federal Law Prohibits…" text embossed on bottle so this one was created and sold post-prohibition while the whiskey was distilled pre-prohibition. Interesting.
Great embossing
California decal tax stamp

Black Gold 16 summers old $65 SOLD

Distiller: G.G. White Co. – Distillery No. 9
Distilled 1915 – Bottled 1933
Fantastic embossing with a neat, simple label
Bottled in Bond tax stamp in great condition

Old McBrayer Straight Bourbon Whiskey $50 SOLD

Distiller: Mellwood Distillery Co. – Distillery No. 34
Distilled 1917 – Bottled 1933
Common brand but this one says Straight Bourbon Whiskey (usually says simply "Whiskey") – tougher variation
California decal tax stamp

Sherwood 17 year old $35 SOLD

Distiller: Pennsylvania Distillery, Inc. – General Bonded Warehouses No. 3
Two California paper tax stamps on back
Can't read dates on Bottled in Bond tax stamp, unfortunately

Susquehanna Rye $80 SOLD

Distiller: Richard E. Wathen – Distillery No. 19 – Still in business today: http://wathens.com/generations.html
Bottled 1916 – Distilled 1933
Although the Susquehanna River runs from upstate NY down through Maryland (where Rye whiskey is commonly from), this whiskey was distilled in Kentucky and I highly doubt is was truly a Rye. Very odd. This bottle was the only known survivor for many years until an unopened case was found about 5 years ago and was split up. I got one of those and upgraded. This one was passed down from my Dad to me.