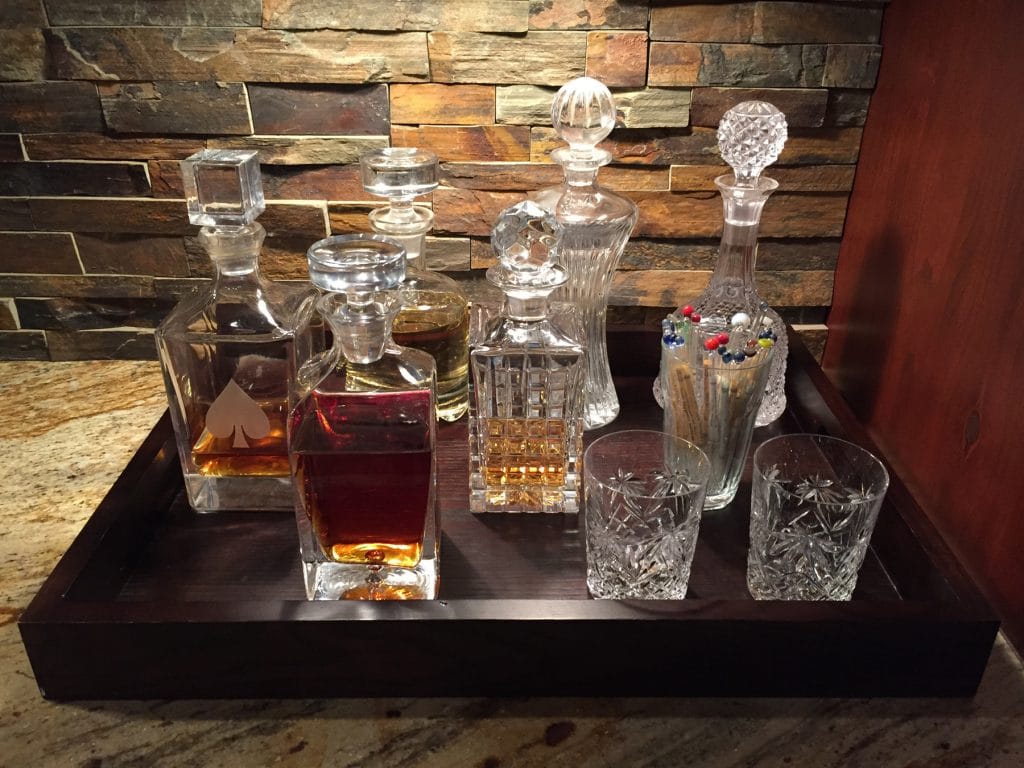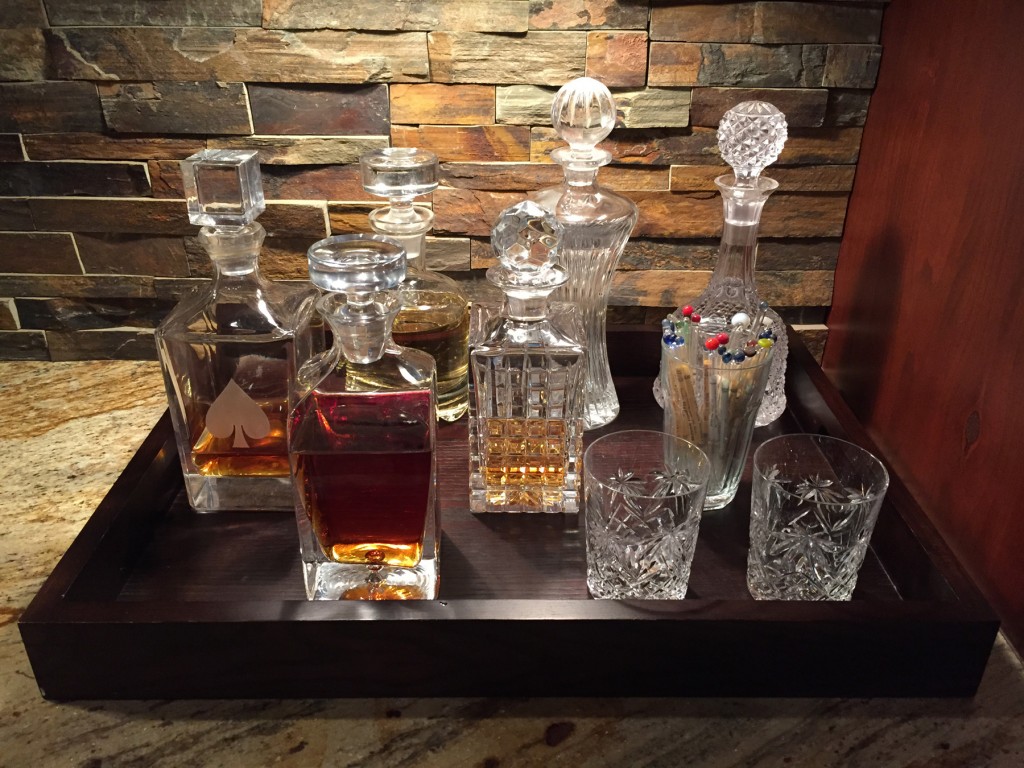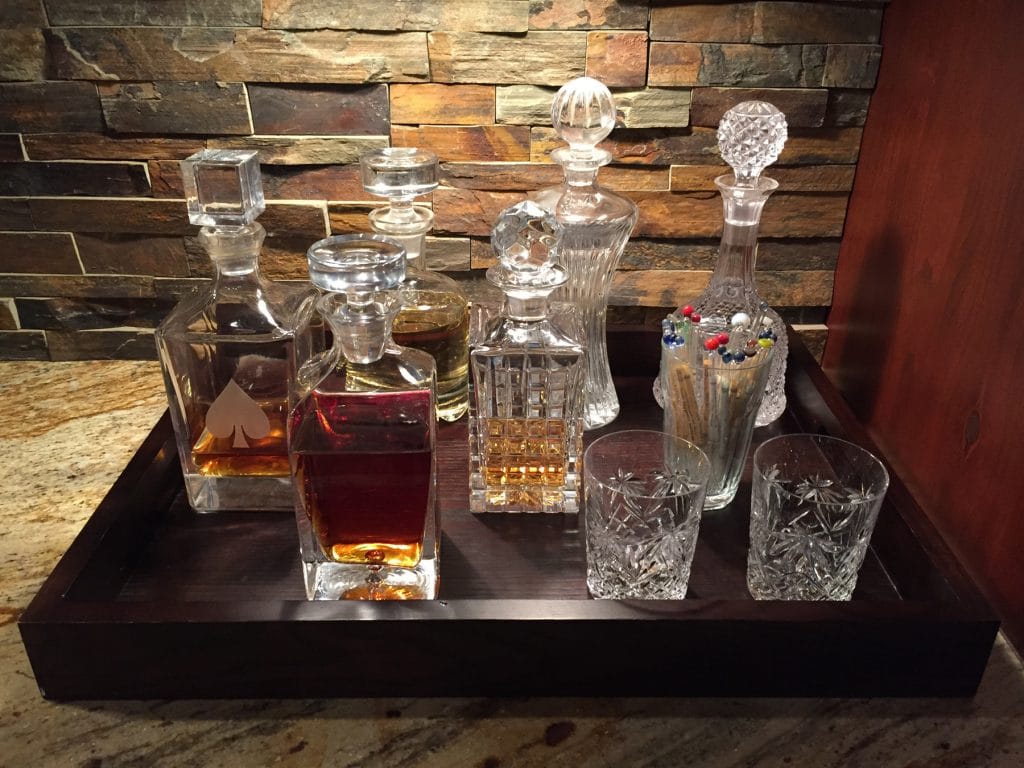 Hello Whiskey Benders! I have decided to widen the scope of my blog and basically include anything about whiskey that tickles my fancy. Today's post is about, you guessed it, whiskey decanters. I remember when I was a kid and my Dad had a nice collection of decanters on the bar at the house I grew up in. Some people use decanters to put bottom shelf booze in so guests aren't all judgy about what the host is serving. Not my Dad. He put the good stuff in there. I remember him lamenting how one of his guests made himself right at home and had the self-serving audacity to mix his finest cognac with Coca-Cola. Oh, the horror!
So, here I am in the prime of middle age with my very own decanter collection. You'll notice I have an equal opportunity bar as it has everything to make a mean Long Island Iced Tea. A dangerous concoction but that is another post. Anyway, my first decanter was given to me by my folks and is appropriately branded with a "spade" on it. A Kate Spade decanter to be exact. Right now it is holding what is left of some Eagle Rare 10 year old. The next decanter was given to me by my wife and is from Tiffany & Co. It holds a bit of Ron Zacapa 23 rum, which is super sweet and delicious. My latest whiskey decanter acquisition is from WhiskeyDecanters.net and holds Larceny Bourbon. I wanted so much to like it but, to me, it had the bitter taste of thin paper husks that surround peanuts you shuck at the ballpark. I really like the decanter it is in because it has the little bead of negative space at the base, which is hard to explain so you just need to see it. Known as the Lexington Whiskey Decanter, I'm happy to have added it to my collection. The rest of my decanters are more decorative in nature and hold tequila, vodka, and gin (oh my!).
Perhaps the most lusted after whiskey decanter of the moment is the Old Rip Van Winkle 23 Year Old decanter set. If you can find one and have about $5K to lay down on it, I say pull the old rip cord!
The set included a beautiful leather lined cherry wood box, two rocks glasses and a handcrafted glass decanter filled with 23 year old, 114 proof Van Winkle bourbon barreled in the spring of 1986. These dates are indicative of true Stitzel-Weller barrels which is always very exciting, but I am not the biggest fan of Pappy Van Winkle 23 Year (PVW23), so I am hoping these barrels prove unique. – Red White and Bourbon
OK, to not be a big fan of PVW23 is like saying you are only slightly impressed by Cohiba cigars. Definitely a gold plated problem. If you don't have the cash or opportunity to purchase this set then for a relatively reasonable $850 you can buy a Limited Edition Pappy Van Winkle Signature Gift Set (bourbon not included).
I've been advised by The Coopered Tot that, when I open any of my older dusty whiskeys, to enjoy a snort immediately and then decant the rest and give it a week to open up a bit. Others say it doesn't matter. I'll err on the side of decanting.